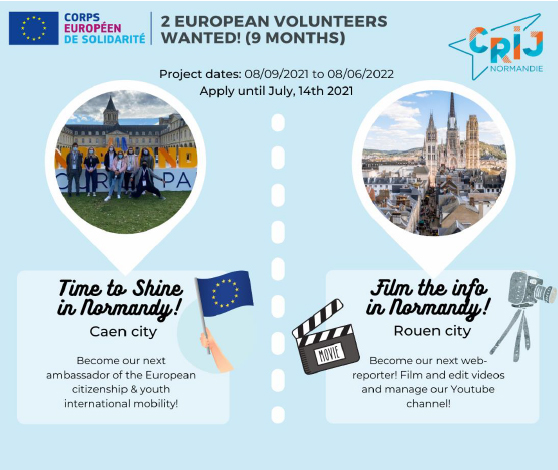 The Regional Youth Information Center Normandy (CRIJ Normandie) is looking for 1 ESC volunteer from European Union members states between 18 and 30 years old, starting in September 2021. Come and join us to be our next ambassador of Europe and youth international mobility!
What do we do?
We are a youth organisation known as a regional youth information center located in the cities of Rouen and Caen, in Normandy region (France). Our aim is to welcome and inform young people on different topics such as: studies and trainings, accomodation, employment, summer and student jobs, volunteering programs, civil and social rights, youth international mobility, European citizenship…
We cooperate with different organisations in the local community: secondary schools, universities, municipalities, youth centers… Each year, our team welcome several volunteers in the cities of Rouen and Caen.
Find out more about us and visit our website:
What is the mission?
Starting date: September 8th, 2021 End date: June 8th, 2022
Duration: 9 months Mission
topics: Citizenship and democratic participation – European identity and values – Youthwork
Location: Caen (1 volunteer)
The activities are:
1 Raising the awareness of local young people towards Europe citizenship and youth international mobility (preparing and performing workshops in schools, participating in student fairs, contributing to various events, recording podcasts on local radios…);
2 Encouraging intercultural dialogue with the public by developing pedagogical tools and methods in order to talk about European citizenship;
3 Contributing to create several events in May 2022 in the frame of the European Day celebration (called "Joli Mois de l'Europe");
4 Participating in actions such as afterworks, information workshops and regularly decorate our area dedicated to Europe and youth international mobility in order to keep it nice and attractive;
5 Helping the CRIJ Normandie team to realise its actions throughout the year.
You will work under the supervision of a youthworker
You will work together with the team, in order to discover different youth information topics: employment, studies and trainings, civil and social rights, etc.
You will have lots of space to implement your own activities in order to introduce your culture and language to the public.
Accomodation and costs
You will live in the city center of Caen and have your own accomodation.
The room will be furnished and has access to a wi-fi connection. There is also a public transport available.
You will get:
• a public transportation card;
• a french bank account;
• a free access to the Online Language Support platform.
According to the European Solidarity Corps program, the project covers all costs related to:
• Travel from your home country (back and forth),
• Accomodation,
• Food and pocket money (monthly allowance),
• Public transport,
• Health insurance (provided by Cigna insurance).
How to apply?
We are looking for a volunteer:
• with social skills,
• ready to commit,
• used to digital tools and social media,
• happy to talk in public,
• interested in environmental issues,
• ability to speak and understand the french language is a plus!
If you have a hobby, you are strongly invited to integrate your interests within the project.
Apply until July, 14th 2021.
2 steps:
• Send your application (CV & cover letter, please be creative!) to europe@crijnormandie.fr
• fill in our online application form: https://forms.gle/5DtEMGcMb7eFxhYc9